Please see our Adoption Process page to familiarize yourself with our adoption steps. Our adoption process of application, interview, and home visit yields a very high percentage of successful adoptions and helps prepare adopters for life with an Italian Greyhound.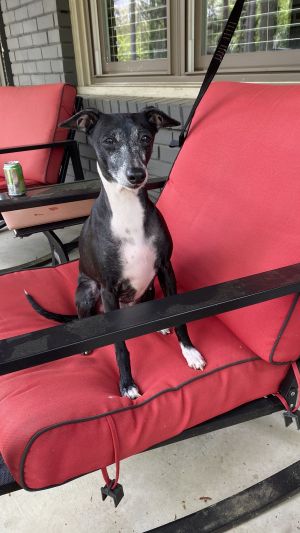 Italian Greyhound
Spayed/Neutered
Up-to-date with routine shots
Hi, my name is Lola and I am a 7 year old female Italian Greyhound. I landed in foster care when my owner had to go into the hospital. I am a little bit of a husky girl but have dropped some weight since entering the rescue and I continue to work on my figure. I love to go on walks, and I do great on a lead. I would love to have a home where we can go on walks or have a yard to roam around in, as I enjoy the outdoors. I am a girl that loves attention, but I am working on knowing my place and giving space. I am very eager to please and want to learn. My foster mom says I'm picking up things quickly and have shown much improvement. I just need someone to keep working with me because I can be stubborn at times. I am potty trained and will stand at the door to let you know when I need to go out. I would prefer a quiet home with older kids and owners that are home more often than not. I have recently been spayed and had a mammary mass removed so routine check ups are needed. I'm also up to date on vaccines and the vet said I have "beautiful" teeth. I'm not a huge fan of the vet so when I go I may need some sedatives for my anxiety. I am a strong willed lady who desires your love and affection. I look forward to finding a home with lots of love, patience, attention and kisses. Lola is being fostered in Charlotte, NC. Visit us on FB at: http://www.facebook.com/IGrescueVa. Also, please fill out an app, as they are processed in the order in which they are received: http://www.midatlanticiggyrescue.com. Lola is property of IGRF.
Adult, Female, Small